Senfeng Leiming Laser LM3015H4-R price from €74 000
Professional fully covered 4-generation fiber laser edition 2020.
Suitable for mass production. Thanks to two tables it is possible to make maximum use of the machine's potential and do not waste time on downtime. The machine is equipped with a combined zone extraction of fumes and extraction in the cutting area. Comes with the Chinese laser source Raycus.
Check the video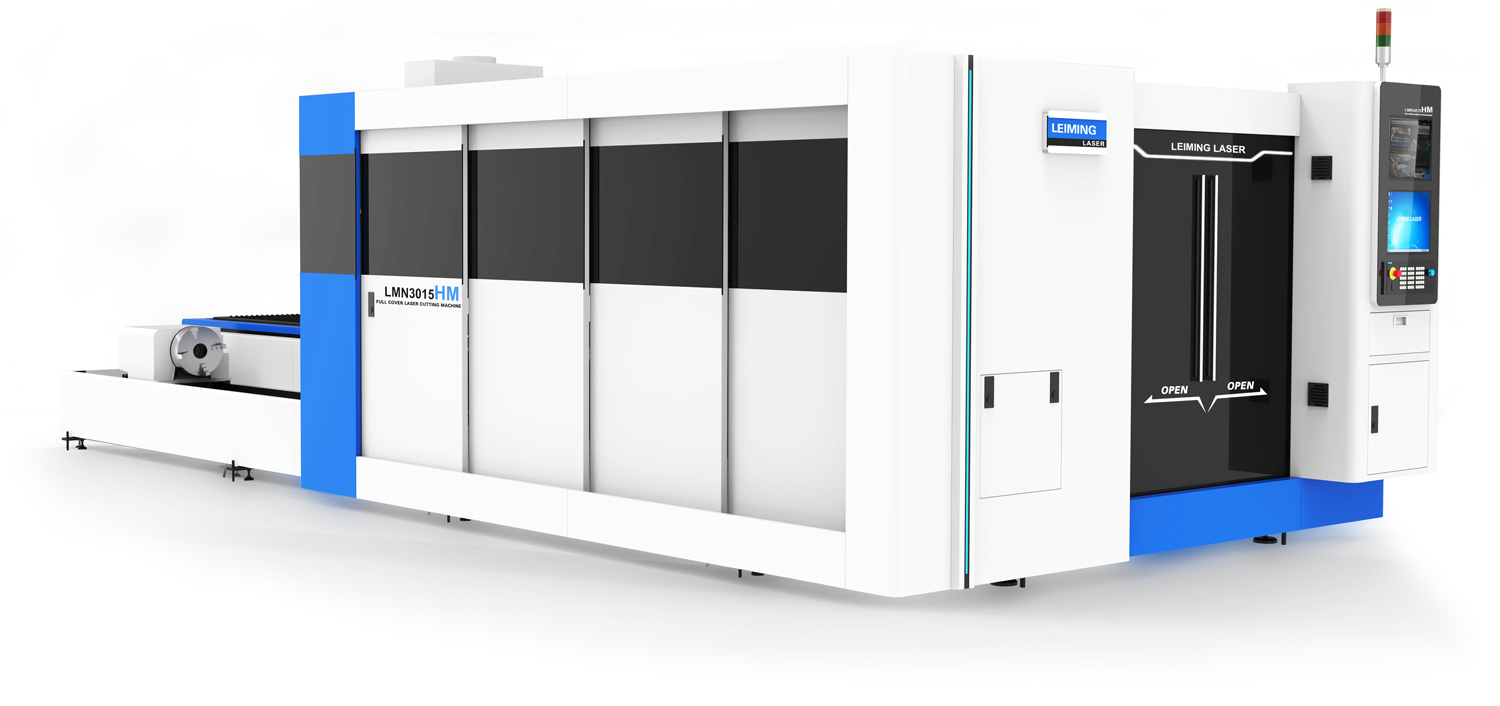 Type
| | |
| --- | --- |
| Category | Fiber laser |
| Brand | Senfeng Leiming Laser |
| Type of work | Cutting |
Attributes
| | |
| --- | --- |
| Wavelength (nm) | 1060-1080 |
| Work area (mm) | 1500×3000 |
| Z Axis stroke Z (mm) | 100 |
| X / Y axial position accuracy | 0.05 mm/m |
| X / Y axial repeated position accuracy | 0.02 mm |
| Rapid transition (m/min) | 120 |
| Acceleration (G) | 1.0 |
| Supply Voltage | AC380V/3PH/50Hz |
| Machine dimensions (mm) | 8600x2900x2250 |
| Gross weight (kg) | 9000 / 11 000 |
Accessories
| | |
| --- | --- |
| Lenses | 10 |
| Nozzle | 20 |
| Ceramic rings | 2 |
| Protection glasses | 1 |
| Filter for coller | 2 |
| Air filter | 1 |
Material
steel, stainless steel, Non-ferrous metals

Accessories
| | |
| --- | --- |
| Control software | Cypcut |
| Control software for tube cutting | TubePro |
| Format support | DXF / LXD / AI / Gerber / G Code |
| Laser head | Raytools ( Švajčiarsko ) |
| Linear rails | THK |
| Motor and driver | Delta servo drive |
| Rack and pinion | Apex Helical rack ( Taiwan ) |
| Reducer | Motoreducer France |
| Industrial cooler | S&A |
| Invertor | Yes |
| Fume suction | Yes – combined |
| Rail for raw material loading | Yes |
| Rotational axis | Optional |
| Coverage | Yes |
| Interchangeable double table | Yes |
Models
| | |
| --- | --- |
| Source | Raycus 1000W |
| Head | Raytools |
| Sale price | €77 500 |
| Opening price | €74 000 |
| Cutting of tubes up to D=300mm | €105 600 |
| | |
| --- | --- |
| Source | Raycus 1500W |
| Head | Raytools |
| Sale price | €86 800 |
| Opening price | €82 700 |
| Cutting of tubes up to D=300mm | €114 700 |
| | |
| --- | --- |
| Source | Raycus 2200W |
| Head | Raytools |
| Sale price | €105 000 |
| Opening price | €96 000 |
| Cutting of tubes up to D=300mm | €127 800 |
| | |
| --- | --- |
| Source | Raycus 3300W |
| Head | Raytools |
| Sale price | €119 500 |
| Opening price | €113 700 |
| Cutting of tubes up to D=300mm | €145 600 |
| | |
| --- | --- |
| Source | Raycus 4000W |
| Head | Raytools |
| Sale price | €157 500 |
| Opening price | €149 500 |
| Cutting of tubes up to D=300mm | €182 000 |
Basic Delivery Terms
| | |
| --- | --- |
| Warranty | 2 years |
| Installation and training | Yes |
Video