EV Series price from €85 000
Professional vertical center for demanding mold manufacturing applications.
The basis of this machine is an all-cast support structure. The machine can be supplied with basic economic equipment or with a wide range of accessory.
It is suitable for machining aluminium alloys, steel, stainless steel, non-ferrous metals and hard-to-machine materials.
Check the video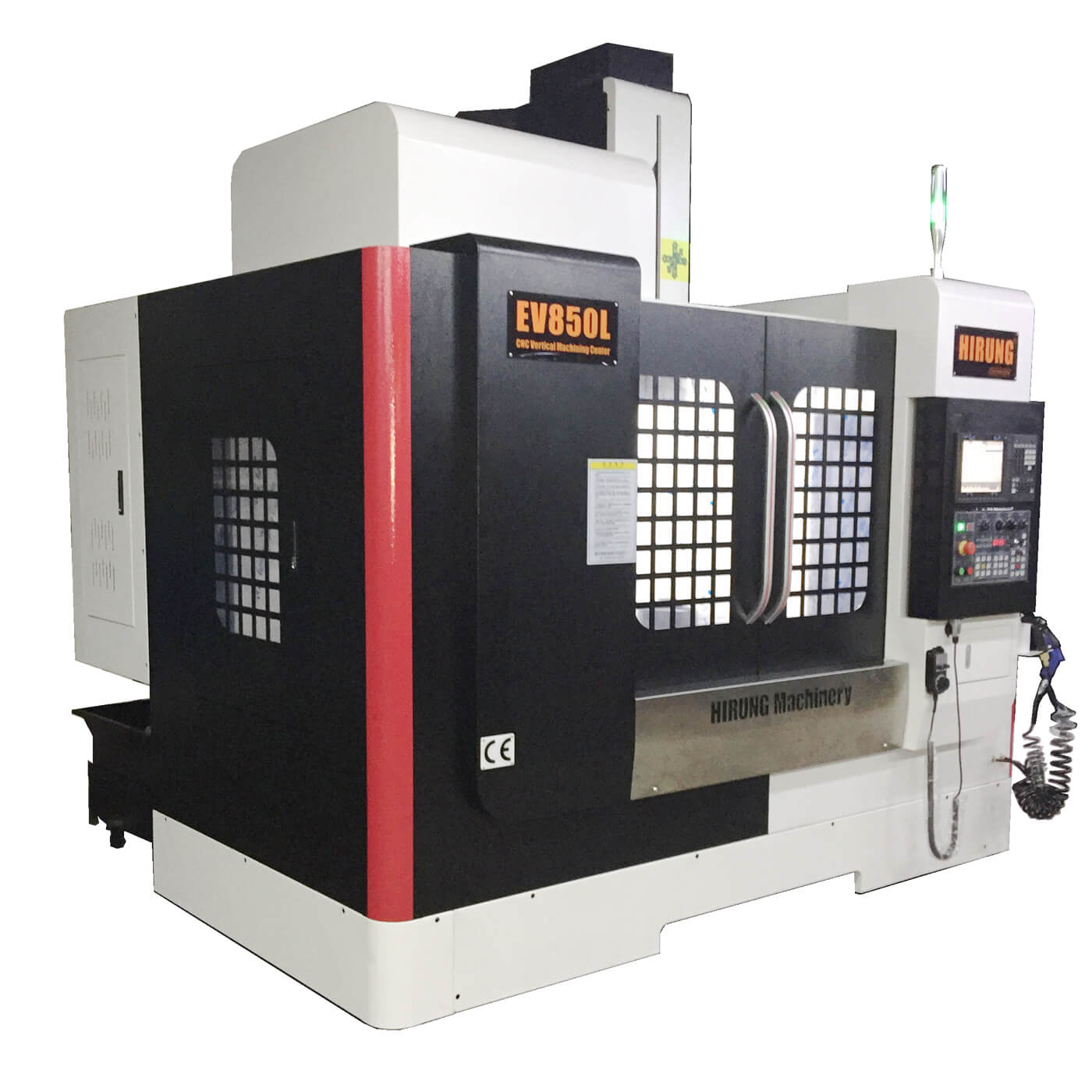 Type
| | |
| --- | --- |
| Category | Vertical center |
| Brand | Hirung |
| Type of work | Milling |
Equipment
| | |
| --- | --- |
| Protective cover | Power distribution board cooler |
| Spindle type 7.5 / 11kW | Handheld controller |
| HIWIN Linear Travels | RS232C Interface |
| HIWIN / PMI Motion Screw | Basic Tool Kit |
| Cooling Cutting Process | 24 pcs. Tool Tray |
| Central automatic lubrication system | Chip removal |
| Spindle Air Blow Type | Oil Spindle Cooling |
Material
Metal

Accessories
Fourth Axis
Fifth Axis
Measuring tool (Renishaw TS27R)
MeasureNo Workpiece (Renishaw OMP40-2)
32 pcs. Tool Tray
Models
Model td>

EV640L h2> td> tr>
Travel Length (mm)
600x400x450
Table size (mm)
700×420
Max. table load (kg)
350
Machine Weight (kg)
4500
Type
3-Axis Center
clamping td>
BT40 td> tr>
Spindle power (kW)
5.5 / 7.5
Spindle Speed (RPM)
12000
No-load max running speed (X / Y / Z) (m / min)
48/48/36
Cutting speeds (m / min)
0-20
Control System
Siemens 828d / Fanuc 0iMF / Mitsubishi M80B
| | |
| --- | --- |
| Model | EV850L |
| Dĺžka pojazdov (mm) | 800 x 500 x 500 |
| Veľkosť stola (mm) | 1050×500 |
| Max. zaťažiteľnosť stola (kg) | 600 |
| Váha stroja (kg) | 5800 |
| Typ | 3-Axis Center |
| UpínaNo | BT40 |
| Výkon vretena (kW) | 7.5 / 11 |
| Otáčky vretena (RPM) | 0-10000 (12000 / 15000) |
| No-load max running speed ( X,Y,Z) (m/min) | 48/48/36 |
| Rezné rýchlosti (m/min) | 0-10 |
| Ovládací systém | Siemens 828D / Fanuc 0iMF / Mitsubishi M80B |
| | |
| --- | --- |
| Model | EV1060L |
| Dĺžka pojazdov (mm) | 1000x600x600 |
| Veľkosť stola (mm) | 1300×500 |
| Max. zaťažiteľnosť stola (kg) | 1000 |
| Váha stroja (kg) | 6500 |
| Typ | 3-Axis Center |
| UpínaNo | BT40 |
| Výkon vretena (kW) | 7.5 / 11 |
| Otáčky vretena (RPM) | 0-10000 (12000 / 15000) |
| No-load max running speed ( X,Y,Z) (m/min) | 36/36/30 |
| Rezné rýchlosti (m/min) | 0-10 |
| Ovládací systém | Siemens 828D / Fanuc 0iMF / Mitsubishi M80B |
| | |
| --- | --- |
| Model | EV1165L |
| Dĺžka pojazdov (mm) | 1100x650x600 |
| Veľkosť stola (mm) | 1200×500 |
| Max. zaťažiteľnosť stola (kg) | 1000 |
| Váha stroja (kg) | 6800 |
| Typ | 3-Axis Center |
| UpínaNo | BT40/BT50 |
| Výkon vretena (kW) | 7.5 / 11 (11 / 15) |
| Otáčky vretena (RPM) | 0-10000 (12000 / 15000) |
| No-load max running speed ( X,Y,Z) (m/min) | 36/36/30 |
| Rezné rýchlosti (m/min) | 0-10 |
| Ovládací systém | Siemens 828D / Fanuc 0iMF / Mitsubishi M80B |
Basic Delivery Terms
| | |
| --- | --- |
| Warranty | 1 year |
| Installation and training | Yes |
Video